Mint – WebView & Multi-purpose Android App With Remote Config. Mint is a multi-purpose Android app that works with Remote Configuration, allowing you to update your app online without the need to upload new updates to the Google Play Store.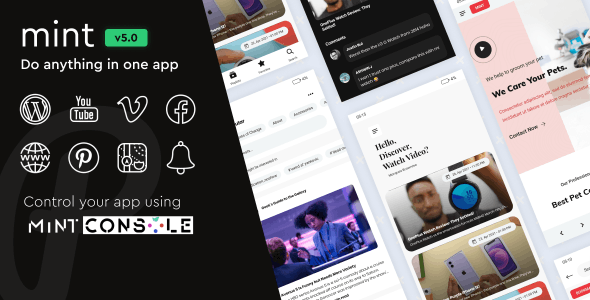 Mint Mobile App Features
Up to date
Dark Mode
Support for WebView, YouTube, Vimeo, Pinterest, Imgur, Facebook and Google Maps API.
Remote Config
Luxurious Design
Bookmarks
Downloads
Full APP
Google Sign-in
Geolocation & Intents
HTML5 Videos & Games
Voice Search
2 Navigations
Responsive
Custom Page Loader
Rating System
Uploading Files
Custom Toast Design
RTL Mode
OneSignal
Google Firebase
Google AdMob
Offline Support
Multiple Options
READ MORE ANDROID APPS
ShareTweetShare
Additional Reading

Cheers!